Listen to What A USSCM Student Has Had to Say: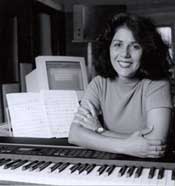 "USSCM provided a great opportunity to develop a deeper understanding of music, on a technical level and on a spiritual level. I just have good things to say about the material. The course is quite rigorous. It provided the support and grounding I needed to advance to another level as a musician. USSCM was the bridge that connected me to a new stage in my career."
-- Mari Leonel, Santa Felicidade, Brazil
US School of Music

Commercial Music Programs
Professional Music Training At Home
Affordable College Diploma Programs
We Supply All Texts, Recordings, and Guidance –
Communicate Online for Quick Feedback.

Arranging
Performance
Songwriting
Scoring for TV, Video & Film

Each program contains several semesters of professional music courses condensed into intensive, enjoyable months of home study, which may begin at any time of year.
We'll Teach You the Code to Rapid Music Learning, to Help You Build a Career as a Professional Musician and Achieve Recognition and Satisfaction as You Express Yourself Fully with Your Own Unique Music


From: John Amaral, Director, US School of Music

Dear Music Professional,

I challenge you to aspire to musical greatness!

I'm excited to be able to offer you our fine college programs.

US School of Music will help you achieve your aims by exposing you to the learning techniques of the MOST EFFECTIVE music teachers, the seldom revealed practice techniques of the MOST INSPIRING performing musicians, and the compositional techniques of the MOST MUSICAL writers, arrangers, and orchestrators. You'll use the FINEST music study materials and resources, many unpublished, that the world has to offer.

You'll be taken step-by-step through dozens of the most powerful creative techniques ever discovered. (Some are so secret that only a handful of people know what they are... so secret that they are not taught yet in other music schools.

Playing your own uniquely inspired music will be easy for you once you know and internalize these SECRETS.

Making a comfortable living as a Professional Musician will be achievable once you know and master these TECHNIQUES and LESSONS.

You'll discover these things as a US School of Commercial Music student, in our proven courses, as you build a solid foundation for a career in music or a lifetime of self-expression.

At USSCM, you'll study to become an Arranger, a Performer, a Songwriter, a Media Composer or to master several majors.

In our cost-effective programs you will discover the TECHNIQUES used by top musicians who routinely earn 6-figure incomes or do the most creative work. What better place to learn all this than in the comfort and convenience of your own home?

You'll be taken step-by-step through dozens of the most powerful creative techniques ever discovered. Some are so secret that only a handful of people know what they are... so secret that they are not even taught yet in other music schools.
Your days of study will be packed with ideas, techniques, resources, and challenges to assist your musical growth.

Who am I, and why should you listen to me? I'm Professor John Amaral. While earning my Electrical Engineering degree at the University of Southern California (USC), I worked with many top West-Coast musicians on over 50 record album and television sessions at the largest independent recording studios in Hollywood. I also hold degrees in Music and Finance. As a teacher at the Berklee College of Music, I pioneered many courses, and taught thousands of musicians their abc's; many of them are now artists whose names you might recognize. Lately, I've consulted to lots of companies inside and outside of the music business, such as Yamaha, Mattel, Van Koevering, Guitron, Kurzweil, etc. Also, I've co-authored best-selling books, videos and DVD's for Hal Leonard Music Publishing. I could go on, but I hope you get the idea: I know what I'm talking about.




USSCM Director John Amaral
and former student Kevin Eubanks
are shown here backstage at NBC Studios, where Kevin leads the "Tonight Show with Jay Leno" Band.

"One of the greatest lessons I ever learned in music and in life was given to me at a lesson with John. He told me to practice facing a wall or with a silly hat on or with one sock on and on sock off. The idea was to somehow make myself conscious of myself and also to break my habitual way of thinking when I practice. This led to a series of changes in my practice regime that in turn led to many discoveries that have been crucial to my development on and off the guitar.

Thanks John.


Love, Kevin"

Twenty years ago, I founded a direct marketing company for musicians which made history with innovative instructional materials, music hardware, and music software. Ten years ago, I founded USSCM, a school for commercial musicians designed to reduce the cost of a quality music education while delivering the very best information and training. Since then, our courses have helped musicians such as yourself, ALL OVER THE WORLD achieve their dreams.

We've worked with students in such far-flung places as Mexico, Canada, Panama, the Caribbean, South America, Europe, Indonesia, Singapore, Hong Kong, and, of course, all over the United States, in short, everywhere commercial music is played and marketed.

One of my successful former students, Kevin Eubanks, is the most visible guitarist in the world. He's on NBC television nightly, where he directs the band, and jokes with the host!

Another very successful student was Rock-god, Steve Vai, who got his lucky break with Frank Zappa. I encouraged him to send his Guitar Styles homework transcriptions to Frank, and Frank hired him; the rest was history! Others are teaching at prestigious schools, or enjoying success as the big fish in a smaller pond of their home areas. The things that all my successful students have had in common was good information and hard work. Talent is only part of the picture!
At USSCM, the 'meat and potatoes' of your studies will give you a solid foundation in commercial music theory, harmony, arranging, ear-training and your instrument. Your days of study will be packed with ideas, techniques, resources, and challenges to assist your musical growth.


This year all US School of Commercial Music programs have an entirely NEW format. Here it is:
Revised Core Music Courses: In these foundational courses, we'll proceed together step-by-step through each and every skill and technique you need to know. You'll be shown examples of each technique, and given an assignment to implement it, so you'll be able to use it yourself. The core music courses will give you a firm foundation for your career in music. Even if you have been working professionally for years, you will find exciting new concepts in the core courses that will give your musicianship inspiration; essential techniques and materials that you are hearing about for the first time.
Additional Advanced Courses: You'll be given a thorough training in the advanced concepts of modern improvisation and arranging. For experienced musicians, this is where the gaps in your knowledge will be filled-in. And even if you have been making records for years, you will find a new well-spring of creativity as you work with USSCM staff to tailor your courses to your personal needs.
Music Learning Strategies: You will learn breakthrough psychological concepts which will help you leverage and improve your talents and supercharge your abilities to communicate with various kinds of audiences and listeners.
Music Technique Strategies: You will take a new course in "Peak Conditioning for Musical Athletes", which is also the subject of a book in progress.

Inside the Music Business: This is our new music-business course which explains the industry from the inside, and gives you an opportunity to attend exciting trade shows as a USSCM guest.

Improved Examples: The musical examples given in the courses have been reviewed for relevancy and updated.

More Styles: We've added more musical styles, and the basic styles have been expanded.

Integration of New Materials: Every year, including this year, we attend two huge music trade shows, in order to incorporate the very latest and best materials and technologies into our courses.

Expanded Library: Along with your course materials, you will receive a massively increased professional resource library in the form of adjunct texts for the courses and additional bonus resources delivered throughout your program.
Internet Resource Library: NEW! As a USSCM student and alumnus, you will have continuing access to our growing internet resource library!

Now let's talk about other things you will be discovering in your USSCM program. In addition to all of the above, your courses will cover timely issues of great importance to your career:

Your website - if you're not using the web to market yourself, you're missing the most highly leveraged opportunity a musician has, except for word-of-mouth! As a music professional and entrepreneur, you ARE a small business, and businesses that use the internet have grown 46% faster than those that did not. The internet has now become crucial to the success of your musical career. If you expect to establish a foothold in the music industry, you'll need to know the secrets of using the web to promote your career.


Your fans - even if you don't intend to be famous, your fans are your most important audience - how to cultivate them and communicate with them.

Treating your career as a business - getting serious about making a living in music.
Public relations - how to market yourself effectively.

Music publishing - from traditional to ebooks.

Music magazines - from paper to ezines. How to use them to your advantage.

Record distribution - how to be streetsmart.

Computer Technology - how to use it to achieve your aims in the most cost-effective and timely way. How to avoid letting it take over your life.

Music Technology - How not to get LOST IN THE SHUFFLE created by music manufacturers who want you to buy something expensive and new every six months.

• Viral marketing
• Direct marketing
• Songwriting
• Presentation Letter Copywriting
• commercial and Personal Broadcasting
• Residuals and Syndication
• The great importance of the choosing the right names and how to do it
• Self-Promotion


Oh, and another thing you'll cover in depth: the things you should NOT DO... things that are a WASTE of your time. Your time is precious. We don't want you to waste any of it on things that just plain don't work.




WHAT ABOUT COST? On a per-year basis, Berklee's tuition is currently $21,290, and total estimated cost including living-expenses is $34,510 per each year of a four year course(source: http://www.embark.com/details/college/1/34/d4_134.asp).
Complete programs at USSCM range around 1/16th of the above tuition, and of course there are no added living expenses. That's a bargain, and you don't even have to pay it all at once!
At the end of your read of the catalog, you can design sample programs to see the USSCM Tuition costs and tell us about yourself with an Application.


Your USSCM program will be jam-packed with valuable knowledge and opportunity. While there's really nothing like our courses anywhere else, programs covering most of the same material at residential music schools can cost as much as $73,000 or more (plus living expenses), and take much longer to complete. The concentrated value of the USSCM courses is such that we could charge much more, but our mission is to provide our programs at a very affordable price, so that we can deliver it to everyone who needs to get this information and is motivated to use it.


After reviewing the USSCM catalog, ask to see our affordable tuition prices. We can keep tuition low because we don't have to maintain a large physical complex of classrooms and studios, and you save on lodging and time for completion while working to achieve the knowledge of a musical pro in the comfort of your own home, one who is able to compete successfully in the exciting music business.


See for yourself. Read the Catalog, and request access to the USSCM Tuition Schedule and Application.


And don't take just my word for all this. If you compare USSCM with the few residential schools which have commercial music programs, I think you will better appreciate the USSCM advantage. Compare USSCM on the basis of cost, courses offered, course content, etc.; however you like. I believe you will agree that what we offer is not only a very good choice for you, it's also a bargain! And keep in mind what Derek Bok, former President of Harvard University said: "If you think education is expensive, try ignorance."



CUSTOMIZED PROGRAMS: Finally, USSCM is a custom-tailored school dedicated to your success as a musician, whether you are studying for a career or not. Each program is modified on an appropriate level designed around to YOUR situation, instead of the usual cookie-cutter approach:



Each program is modified on an appropriate level custom-tailored to your situation:



• Foreign musicians who need an affordable alternative to coming to the United States to study commercial music! And while our courses are taught in English, our staff is very experienced in explaining and helping with concepts that may not be clear because of a language barrier (see sidebar).

• Musicians who are thinking of going to a residential music school, and understand the need for solid preparation so they can excel and compete there!

• Students who wish to prepare to take advanced standing entrance exams at a residential music school, in order to save money and time there!

• Students already attending a residential music school who want to get a jump on their studies and surpass their fellow-students with cutting-edge music learning techniques not offered at their school!

• Precocious students attending another school in a program other than music, as a highly-efficient and relaxing double-major!

• Students who are alumni of another school who realize that they have a need for a more practical approach for success in the music business!

• Students requiring a succinct post-graduate course, as an adjunct to their traditional studies in music!

• Musicians who have been out of school a while and would like a strong refresher program to spark their careers, to finish up studies that had to be interrupted, or to add to their knowledge and skills with a program different than their original studies!

• Musicians on the road, who just don't have time to stop and fill in the gaps in their musical training!

• Semi-professional musicians, who just don't have time to stop and and study at a residential school, because they are making too good a living already or supporting a family!

• Professional musicians, who want to add to their arsenal to increase their competiveness, expand their musical voices, and hone their competitive edge!



• Your program will also be modified according to your background experience:


Some Formal Training
No Previous Formal Study
Private Lessons Only
School Band or Choir
Church/Gospel
Classical Music Education
Traditional Classical Music Degree
Music Teacher
Piano or Guitar Teacher
Weekend Warrior
Commercial Music Professional
Road Musician
Recording Musician
Demo Arranger
Singer/Songwriter
Performance Artist





After you have read the Catalog and Application, please contact me to discuss your future.



My Very Best to You,
Professor John Amaral
Professor John Amaral
Director, US College of Music, US School of Commercial Music
113 Barksdale Professional Center
Newark, DE, 19711-3258
617-666-4839
email (a good way to communicate): director@usschoolofmusic.com



For information about other USSCM home study products,