About USSCM Director John Amaral
I remember thinking that you were a good teacher and not affected (like many young Berklee teachers were.) I've been a full time player/writer since. I have 3 Emmy's and will play SXSW with Big Al Anderson next week. I write for most TV networks and am lucky enough to make a good living doing what I love. The reason I'm writing is that you never know, no matter how insignificant an action, who you're going to affect. I went on to study privately with Pat Metheny but I think it's the little things that affect us more - so thanks for being encouraging and thoughtful. All the best,
Jim C

Formerly an instructor at Berklee College of Music, John Amaral has taught over 3000 Berklee students and developed a number of courses for the College. He founded and directs the US School of Commercial Music, and has started other related Music Industry businesses: MusicWorks Software develops music learning tools and consults to various companies in the Industry. EarGym (www.EarGym.com), offers interactive music performance training on the World Wide Web.

For Hal Leonard Music Publishing, Professor Amaral co-authored KEVIN EUBANKS, CREATIVE GUITARIST", and the "JOY Of IMPROV Book/CD Series (www.joyofimprov.com). With Dave Frank, he co-produced the hit DVD/Video "BREAKTHROUGH TO IMPROV". His other products include BigEars (www.bigearsperfectpitch.com), the world's most advanced eartraining course.

For the Guitron Corporation, John Amaral directed a team of engineers in the design of a new guitar-like musical instrument.

John Amaral holds degrees in Electrical Engineering (USC), Music (BCM), Finance (BC).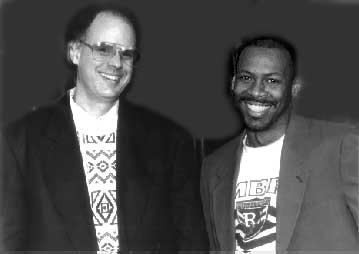 Professor John Amaral with former student Kevin Eubanks,
band director for the Tonight Show With Jay Leno for 18 years

John Amaral has studied with:
Gary Burton, Pat Metheny, Howard Roberts, Joe Pass, Johnny Smith, Bill Leavitt, Barney Kessel, Charlie Banacos.

John Amaral has worked with hundreds of musicians, including:
Artists: The Everly Brothers (Mercy, Mercy) * Johnny Mann Singers (radio spots), Anita Kerr Singers * Doris Day, Wayne King, Della Reese (South Side of Chicago) * Phil Ochs, Paul Butterfield * The Beach Boys, Sonny & Cher * Nancy Sinatra, Lee Hazlewood, Duane Eddy (Dance With The Guitar Man), Al Casey

Arrangers: Neal Hefti, Billy Strange (Nancy Sinatra), HB Barnum (Don Ho), Ernie Freeman (Don Ho), Mike Post (Hill Street Blues)

Producers: Lou Adler, Tommy Boyce & Bobby Hart (Monkees),

Guitar: Howard Roberts, Tommy Tedesco, Joe Pass, Barney Kessel, Dennis Budimir, Neal LeVang, Bob Bain, Al Viola, Mike Deasy, John Pisano, Larry Carlton

Keyboard: Larry Knechtel, Steve Allen, Bob Winter

Bass: Carol Kaye, Joe Osborne, Red Mitchell, Ray Brown

Engineers: Eddie Brackett, Henry Lewy, Bones Howe, Chuck Britz, Ben Jordan, Mike Shields, Frank DeMedio, Wally Heider

Dave Frank

Dave Frank has been teaching contemporary music and improvisation for 25 years. A co-founder of the NY School of Jazz, he has been an Assistant Professor of piano at the Berklee College of Music since 1987. He tours worldwide, and has presented master classes and concerts in Spain, England, Holland, Argentina, South Africa, Australia, Brazil and throughout the US and Canada. Dave records for JazzHeads Records. His teachers have included Lennie Tristano, Charlie Banacos, and John LaRosa, and he has several records available at Amazon.com. Dave is the featured presenter in the DVD/Video "BREAKTHROUGH TO IMPROV."